Attorney Profiles

The Law Offices of Blair T. Jackson, P.A. were established in Orlando, FL in 2002 by the firm owner, Blair T. Jackson. Mr. Jackson has more than 15 years experience with expertise in civil litigation and criminal defense.
Blair T. Jackson, Esq.
Mr. Jackson was admitted to the bar in the state of Florida in 1992. He is a member of the Orange County Bar Association, United States District Court - Middle District, as well as the Florida Association of Criminal Defense Lawyers and Central Florida Criminal Defense Attorney's Association.
In 1988 he earned his Bachelor of Arts in History from McGill University, which is located in Montreal, Quebec. He went on to earn his Juris Doctor from Thomas M. Cooley Law School in 1991, located in Lansing, MI.
He serves as a Guardian Ad Litem for Orange County, Florida (an attorney appointed by the Court to represent a minor in family related cases or where the child is a victim of a crime). Mr. Jackson teaches a variety of courses as an Adjunct Professor for Barry Law School. He is also a Business and Legal Ethics Adjunct Professor for The Crummer School of Business at Rollins College in Winter Park, FL.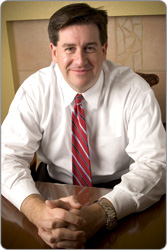 Serving Central Florida for over 16 years!